After two seasons playing for the Stars, BR is entering his 2nd season with the Orioles, check that Rattlers, in the 35+Division of NABA, the National Adult Baseball Association. Our team name has changed for the 2012 season. The NABA website is www.dugout.org. The Denver chapter's website is www.denvernaba.com.

RATTLERS SCHEDULE & RESULTS

2012

DATE
VISITOR
HOME
SITE
TIME
04/01
BUFFALOES
20
RATTLERS
6
Colorado Academy
Willis HR/ Tough start.
04/15
RATTLERS
PPD
SHOCKERS
D'Evelyn HS
PPD Wet Grounds.
04/22
REDS
10
RATTLERS
12
Double Angel Varsity (TV)
Rattlers rally down 7-1 /Cook HR
04/29
BOMBERS
15
RATTLERS
5
Arvada HS
Rather awful
05/06
CANNONS
4
RATTLERS
5
Wheatridge HS
Dalle-Molle shines on mound
05/20
RATTLERS
1
MUDCATS
5
Double Angel Var (TV)
Hard luck L for Clemens.
06/03
RATTLERS
9
ZEPHYRS
4
Smoky Hill HS
Good team win. Ken DM WP.
06/10
RATTLERS
5
BUFFALOES
7
Green Mountain HS
Dalle-Malle & RFish excel. Waldo 2 hits.
06/17
SHOCKERS
1
RATTLERS
7
Bear Creek HS
KDM 6 no-hit innings. Willis 3 run HR.
06/24
RATTLERS
14
REDS
4
North HS
B.Fish 2 doubles, everyone with at least 1 hit. R.Fish WP.
07/08
RATTLERS
PPD
BOMBERS
Arvada HS
PPD / Wet grounds.
07/15
RATTLERS
7
CANNONS
2
Adams City HS
Clemens CG W, Wally and BR 3 RBI's.
07/22
MUDCATS
5
RATTLERS
15
Green Mtn. HS
KDM CG W, Brouwer 3 BB's and RBI's.
07/29
ZEPHYRS
3
RATTLERS
4
Thomas Jefferson HS
R Fisher CG W, Godley GW hit in 8th.
08/05
BUFFALOES
10
RATTLERS
2
Double Angel JV
W streak ends at 5.
08/11
RATTLERS
12
SHOCKERS
12
Green Mtn HS
Blew 9-1 lead. Meltdown City. Errors galore.
08/12
RATTLERS
14
SHOCKERS
4
Machebeuf HS
Clemens WP, M. Fisher 3 hits, good team win.
08/19
REDS
8
RATTLERS
9
D'Evelyn HS
2 in 9th to pull it out.
08/25
RATTLERS
19
BOMBERS
8
Arvada HS
KDM-WP, great team win.
08/26
RATTLERS
5
MUDCATS
8
North HS
Comeback fell short.
09/09
CANNONS
4
RATTLERS
10
Double Angel
PLAYOFFS: Clemens CG win
09/16 RATTLERS 4 BUFFALOES 8 Double Angel Season Ovah.
(TV...Games broadcast live on the internet at www.goalmaster28.com)
Denver Weekend Weather: http://www.weather.com/weather/weekend/USCO0105
STANDINGS

TEAM
W
L
T
PCT
GB
BUFFALOES
14
3
1
.806
-
BOMBERS
13
5
0
.722
1 1/2
MUDCATS
11
6
1
.639
3
RATTLERS
11
6
1
.639
3
CANNONS
8
10
.444
6 1/2
SHOCKERS
6
11
1
.361
8
REDS
5
13
0
.278
9 1/2
ZEPHYRS
2
16
0
.111
12 1/2
2012 PLAYOFFS:
OPENING ROUND (Sept 9)
BUFFALOES 10 ZEPHYRS 0 @ Double Angel Field
RATTLERS 10 CANNONS 5 @Double Angel Field
BOMBERS 10 REDS 2 @ Double Angel Field
MUDCATS 15 SHOCKERS 8 @ D'Evelyn High School
SEMI-FINALS (Sept 16)
BUFFALOES 8 RATTLERS 4 @ Double Angel Field
MUDCATS 13 BOMBERS 0 @ D'Evelyn High School

CHAMPIONSHIP GAME (Sept 23)
BUFFALOES 11 MUDCATS 10 @ Double Angel Field
RATTLERS ROSTER

PLAYER
#
B/T
POS
STEVE BROUWER (MGR)
2
R/R
C
BOB CARLSON
18
R/R
1B
DAN CLEMENS
21
R/R
P / SS
ZACH COOK
7
R/R
OF / 3B
KEN DALLE-MOLLE
35
R/R
P / OF
BRYCE FISHER
9
R/R
3B
MARCUS FISHER
23
R/R
OF / P / 1B
RICK FISHER (Coach)
34
R/R
P / C
JIM GODLEY
11
R/R
OF / SS
JASON JONES
22
S/R
P / SS
BILL ROGAN
27
L/R
2B / SS
GARRICK SASA
13
R/R
DH /C/ 2B
SHANE SAUNDERS
4
R/R
OF
JON VAALA
17
R/R
OF
BRIAN WALDSCHMIDT
3
R/R
3B / OF / 1B
JOPY WILLIS *
5
R/R
1B
*DL / out for season
* Note: Individual stats will no longer be kept on this page due to inaccurate and dubious stat keeping.

Rattlers at the All Star Game at Double Angel Field, June 26th. We were on the home team, which as you can see on the scoreboard, won a pitcher's duel, 16-15. From L-R: Steve Brouwer, Zach Cook, Jopy Willis and Bill Rogan. Jopy went 3-3 with 2 walks, a double, HR, 3 runs scored and 5 RBI's and is holding his MVP Award. By the way, where is the number on the front of Zach's uniform? Jopy has a number on the front of his uni as you can barely see the top of his number 5 above his award.



This page brought to you by SLAMMERS in Lakewood / www.slammersbaseball.com

(Below) 2011 Orioles (became Rattlers in 2012. We went from a traditional team name with solid looking uniforms to a stupid name with ugly, cheap looking unis.)



Bottom Row L to R: Ken Dalle-Molle, Jason Jones, Garrick Sasa, Mike Zuffoletto, Bob Carlson.
Top Row L to R: Lanny Brouwer, Marcus Fisher, Jopy Willis, Bill Rogan, Bryce Fisher, Steve Brouwer.

Broadcast history!The June 26th game versus the Sky Sox at Double Angel Field was broadcast live on the internet at www.goalmaster28.com. It was the second NABA game ever broadcast, the first one West of the Mississippi. The first NABA game ever televised took place in New York at Dutchess Stadium. Casey Bloyer and Justin Adams were the announcers for this classic game, won by the Orioles, in dramatic fashion, 6-5 on a walk off single by Garrick Sasa. Baseball historians are already calling this game one of the best not only in NABA history but all of baseball history. If you would like to purchase a DVD of this monumental battle, you can do so for $20 at www.goalmaster28.com.
If you are too cheap to buy a DVD then you can watch the game right here:
http://www.youtube.com/watch?v=HIZo5IqUa0s

Orioles Training Videos:
http://www.youtube.com/watch?v=kH4KP6uqtMg
http://www.youtube.com/watch?v=NDZPN0mjaAA
http://www.youtube.com/watch?v=cGI8swltOAM
http://www.youtube.com/watch?v=SyyE2DLztA8
http://www.youtube.com/watch?v=sJD8k2hgRmU

2010 NABA All-Star Team > BR, 2nd row, 2nd from right.


SLAMMERS
Located at 1878South Wadsworth Boulevard in Lakewood is the official training facility of the NABA Orioles. Visit their website at www.slammersbaseball.com.
"Thanks to SLAMMERS, I'm a perennial NABA Over 35-All Star!" - Steve Brouwer, Orioles Catcher/Manager (First row, 7th from the left in above photo).
Below:
1) BR at the dish for the Stars somewhere in the mountains.
2) BR batting for the Orioles
3) BR at the Home Run Derby before the 2012 All Star Game at Double Angel Field in Parker, Colorado (www.doubleangel.org). The proceeds went to benefit the Garrett Exstrom Memorial Fund (http://www.iballstats.com/denver-co ). This mighty cut resulted in, hopefully, the ball getting out of the infield. Note the huge crowd and how riveted the kid in the T-shirt in the dugout is .
4) 2012 All Star Team.


.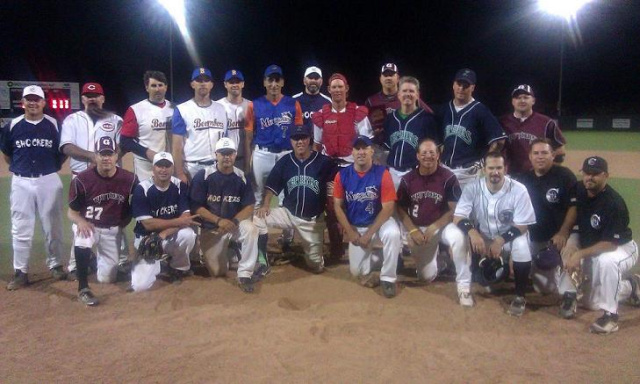 210201230022222222ssss20120020120122000201`000122