BOOK SIGNINGS

:

I am very pleased to announce three upcoming book signings at the Blake Street Tavern in Denver, just north of Coors Field, ironically on Blake Street. I'll be joined at the signings by Matt Repplinger, author of "Baseball in Denver" and Jan Sumner, author of many great books including his latest called, "Seams." Each signing will take place two hours before Rockies games and continue during the game. Come by and get some great food at Blake Street Tavern, get signed books and talk some baseball with Matt, Jan and me. It will be a fun time.
Dates and times:
Saturday July 26th at 4 p.m.
Tuesday August 5th at 4:30 p.m.
Friday August 15th at 4:30 p.m.



Welcome to The Turf Website! Sorry to inform you all that the 11+ year run of Artificial Turf is over.
Bill Rogan was let go by KNUS Radio (7-10-14), an apparent victim of the salary cap. Bill is now a free agent (going 3rd person there). Hopefully I'll resurface somewhere soon and bring The Turf back to life.
Thanks for everyone who tuned into The Turf over the years. We all loved doing the show and appreciated all our listeners. In the meantime, please continue to visit this website for the latest updates and book signings. Yes, buy my books...please!!! :)
Thanks to all, especially Andy Cornell, Casey Bloyer, Justin Adams, Kevin Wheeler, Ed "Hendu" Henderson, Kevin and Debra Jerome, Connor Shreve, Bill Nelson, Kelly Lyon, Jeff Andrews and others who helped make the show what it was. Also, thanks to Kelly Michaels, my now former program director, for giving The Turf the green light back in February of 2003.
BR

Click here for reaction to Bill's firing: http://www.turfsports.net/fired.html

) ) ))





Get a copy of Bill's new book here:

http://www.turfsports.net/stillpitching.html

The Tne A A BB Thanks NNnNe

< Fish signs a book!




Great book signings were held at:


Johnny's New York Pizza in Lakewood, Colorado.
Simpler Times Designs in Parker, Colorado.
Fireside Books and Coffee in Englewood, Colorado.
The National Ballpark Museum in Downtown Denver.
Coors Field

(Private signing. We are always happy to sign books at private events and functions!)


Breckenridge Brewery, Downtown Denver.
Blake Street Tavern, Downtown Denver.
The Fox Den, Fort Collins, Colorado.



L-R: Jan Sumner, Matt Repplinger, Rick Fisher, Bill Rogan outside the National Ballpark Museum, Blake Street in Denver.


***UPCOMING TURF GUESTS***

Well, it might be a while. But, The Turf will rise again.
***Listen to KEVIN WHEELER from ESPN radio in St. Louis every weekday from 9 a.m. to noon, central time. Just click the link.
http://www.101sports.com/shows/the-kevin-wheeler-show/


"Hi, I'm Kevin Wheeler! But my friends call me Kevin Wheeler."

"Excuses are like poems...they're for sissies and no one wants to hear 'em." Ron Stilanovich.
Check out Bob Busser's nephew doing some yard work!
https://www.youtube.com/watch?v=W7nJtJrMIoo&feature=youtu.be
Bob is the Turf ballparks guy. Visit his website at:
www.ballparks.phanfare.com

< This is how Bill feels when Notre Dame loses.


Steve Garufi (above) has been a guest on The Turf. Visit Steve's website www.coloradoguy.com
Great wGreat lNew video Pitching coach Jan Sumner has a new instructional video out. I've seen it and it is outstanding. For information about Jan and his "Total Pitching" video, check out his website at: www.therealstrikezone.com.
Here is a great place to visit if you are in Denver. Check out Bruce Hellerstein's incredible museum.
www.ballparkmuseum.com


Looking to break into sports management? Then go to this fine website... www.sportsmanagementcolleges.com.
The Turf gets some pub from the Denver Post: http://www.denverpost.com/dustysaunders/ci_16730837

Bill was recently on Mark Crowley and David Sandusky's radio program. Take a listen to a fine hour of radio by clicking the link.
http://newstalk710knus.podbean.com/2010/11/04/turf-tales-on-your-brand-radio/ For the FOR fOR THEfORAre you

< Bill with legendary runner Jim Ryun. Watch Jim run here:
http://www.youtube.com/watch?v=9ots91-yh_o / http://www.youtube.com/watch?v=xlwS0Fyq8vk
Visit www.ryunrunning.com
Check out www.customsportscards.com. If you need customized cards for your business, team or event, this is the place to go. Ask for Dave!

***Attention Baseball Coaches!!! Check out the new style pitching screen and revolutionary batting cage at this link: www.morrowsports.com. Tell them The Turf sent you!

***Somebody likes The Turf, somebody actually likes us!!!
http://www.examiner.com/x-780-Denver-Sports-Media-Examiner~y2008m9d14-KNUSs-Artificial-Turf-a-sportstalk-winner
The Turf gets some pub from the Denver Post: http://www.denverpost.com/dustysaunders/ci_16730837


2008 Baseball Hall of Famer...
Goose Gossage! (Below, BR takes batting practice off the Goose at Legends Game 2006)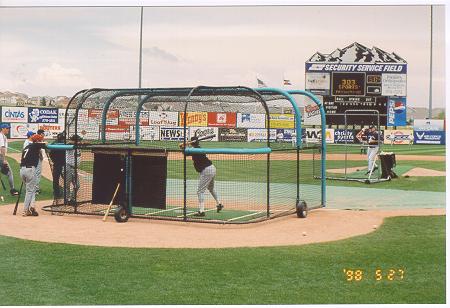 Parents, are you looking to make your kid a better hitter or pitcher? You need to contact Wayne Snow and Jan Sumner at www.therealstrikezone.com. Top flight instruction from two veteran baseball men.
Old guy's baseball website: www.dugout.org

Want to be a sports broadcaster or become a better one? Then check out Broadcaster Marketing Services, owned and operated by David Brody. Visit his website at : www.sportsbroadcastingcoach.com
ARTIFICIAL TURF has also been heard nationally on SIRIUS Satellite Radio and the Sports Byline USA Radio Network!
Football fans be sure to visit Scott Wright's www.draftcountdown.com.

YANKEE STADIUM...R.I.P.

(April 18, 1923 - September 21, 2008)



(Below) Bill and Ed Henderson at Coors Field. Hendu is a scout for the MinnesotaTwins and a guest host for The Turf. Hendu wanted to sign Bill out of the old guy's league...but Bill couldn't affort to pay the Twins any bonus money!
<
"Hi, I'm Itch. Pleased to meet you."

2012 Cy Young Award and Branch Rickey Award winner R.A. Dickey.

BR with Colorado Sky Sox Manager Glenallen Hill in Scottsdale, Arizona, 2013.